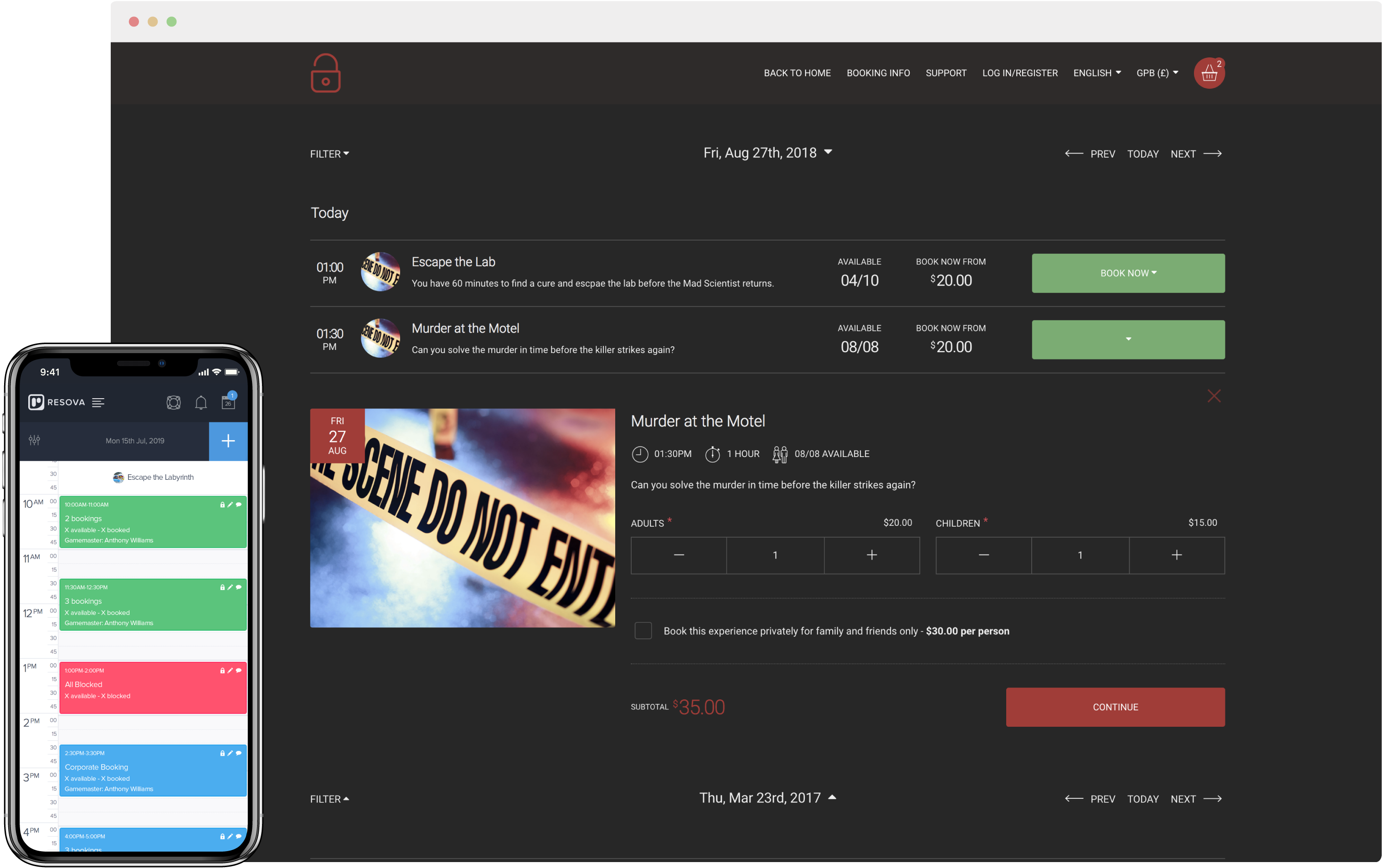 Thousands of happy customers worldwide
No Commission Fees Means No Worries
We don't do hidden costs. With Resova's powerful booking tools, you'll enjoy total peace of mind with our unparalleled security and 24/7 USA based customer service to back it up – all without a single penny in commission fees!
Start Free Trial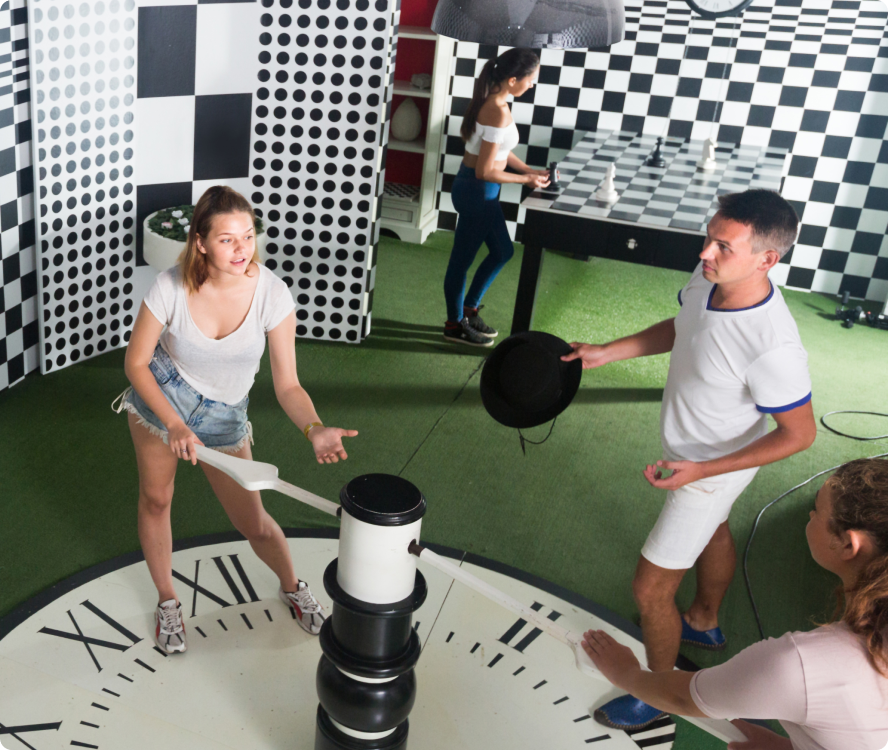 24/7 Customer Support
Get help anytime with Resova's always-available USA based support team — whether 2 AM or 2 PM, our 24/7 customer support has your back.
High Security Standards
Your customer's information and transactions are protected with Resova's secure system and strict security measures. Rest assured that your business and customer data is safe and secure.
Flexible Pricing
Find the perfect pricing plan that fits your business needs with Resova's flexible options, whether you're just starting out or expanding.
Between Resova's coupon code marketing program, which is quite robust and customizable, and its integration with our existing MailChimp account, we were able to put together a good online package so that we could really focus on return visits. That combination has done wonders for our digital marketing.
Get Everything You Need From Resova's All-in-One Booking System
From automated communication tools to advanced scheduling options, Resova makes managing acitivity centers a breeze. Say goodbye to manual processes and hello to a more efficient and customer-focused booking experience!
Cloud Based Calendar
Manage reservations and availability from any device, anytime with our Cloud Based Calendar. Get real-time updates with just the power of an internet connection.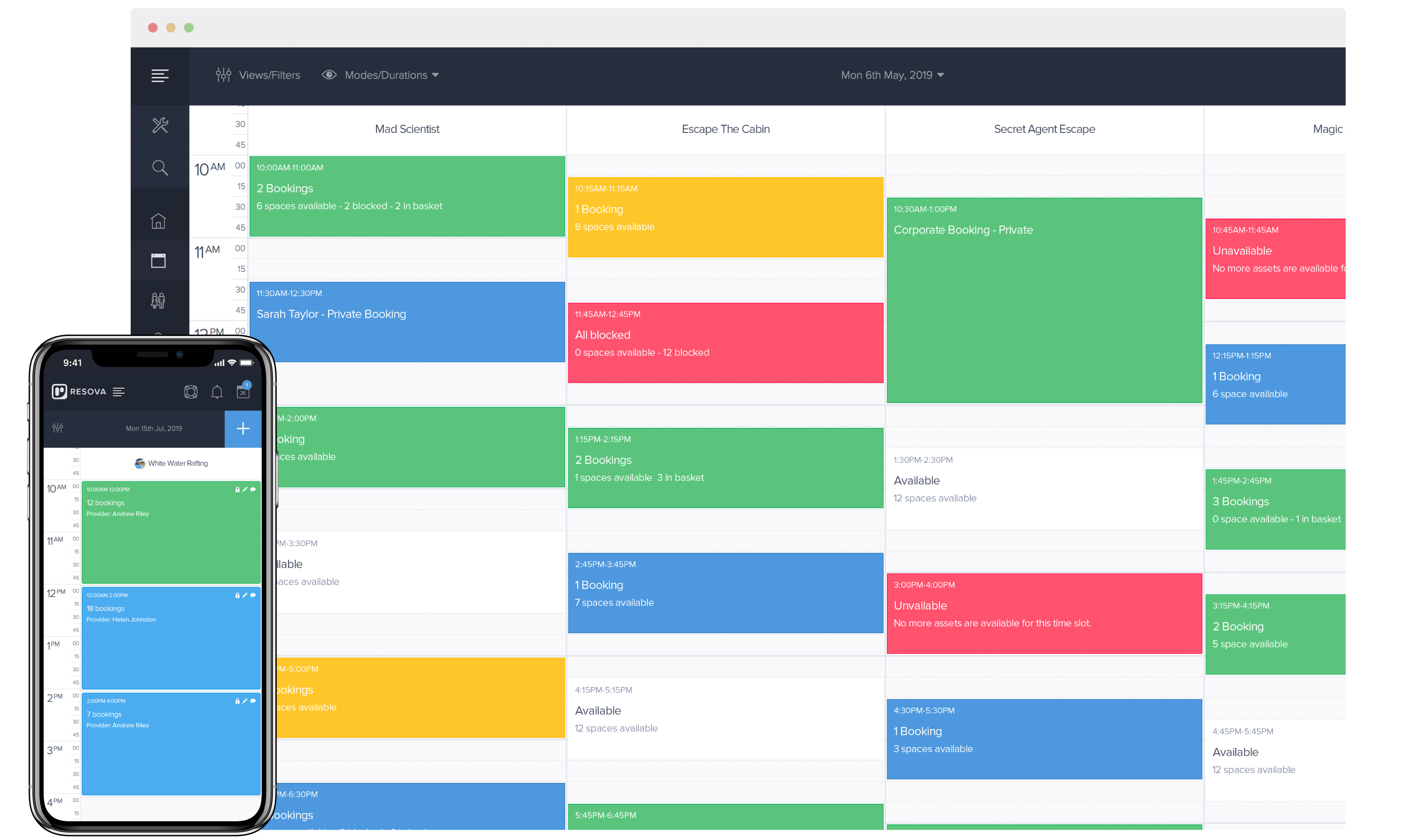 Bookings, Payments & Gifts
Simplify your booking process, manage payments seamlessly, and even allow customers to gift experiences with Resova's efficient booking solution.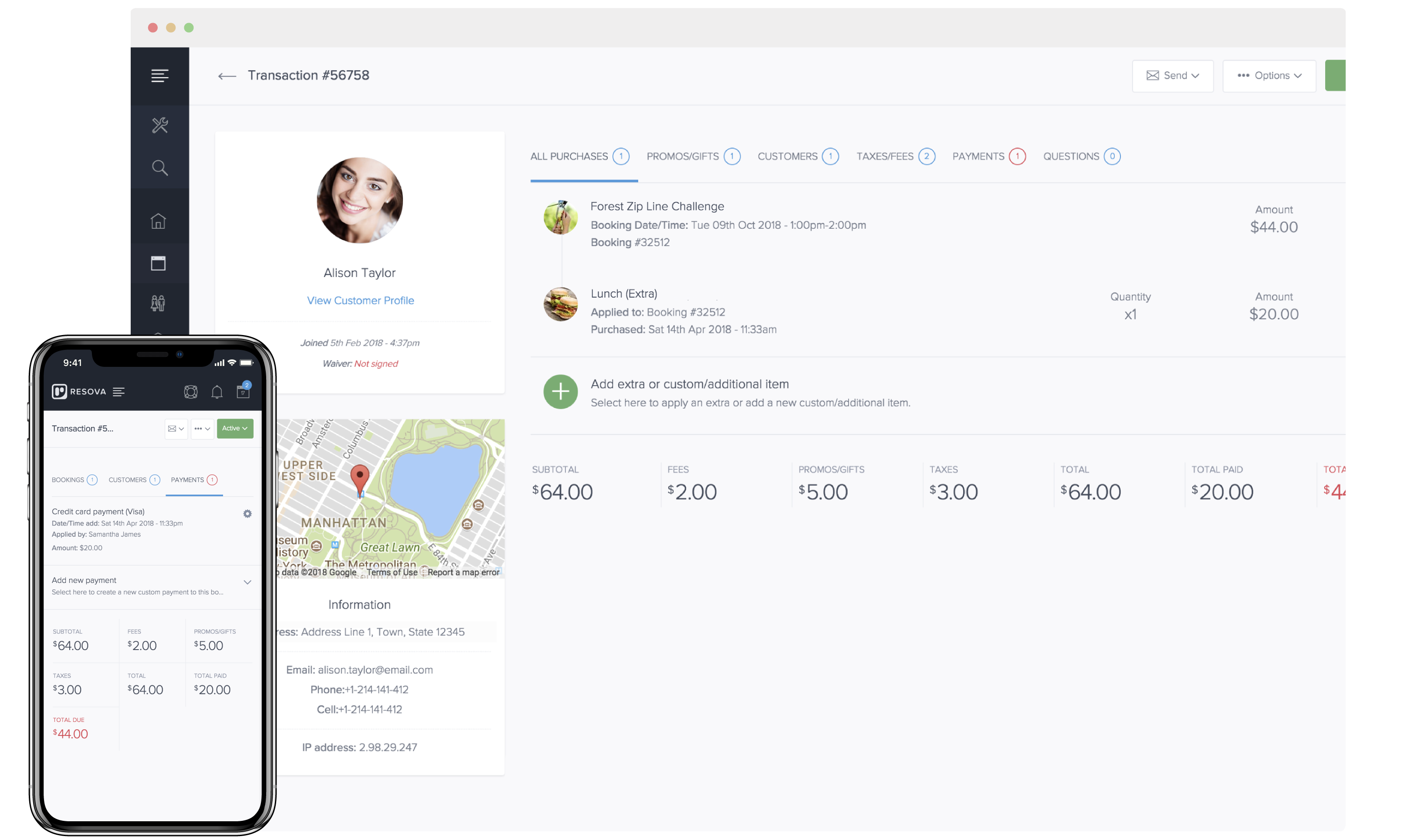 FREE Onboarding
Unleash your business potential with a free dedicated resova onboarding manager to customize experience to your guests.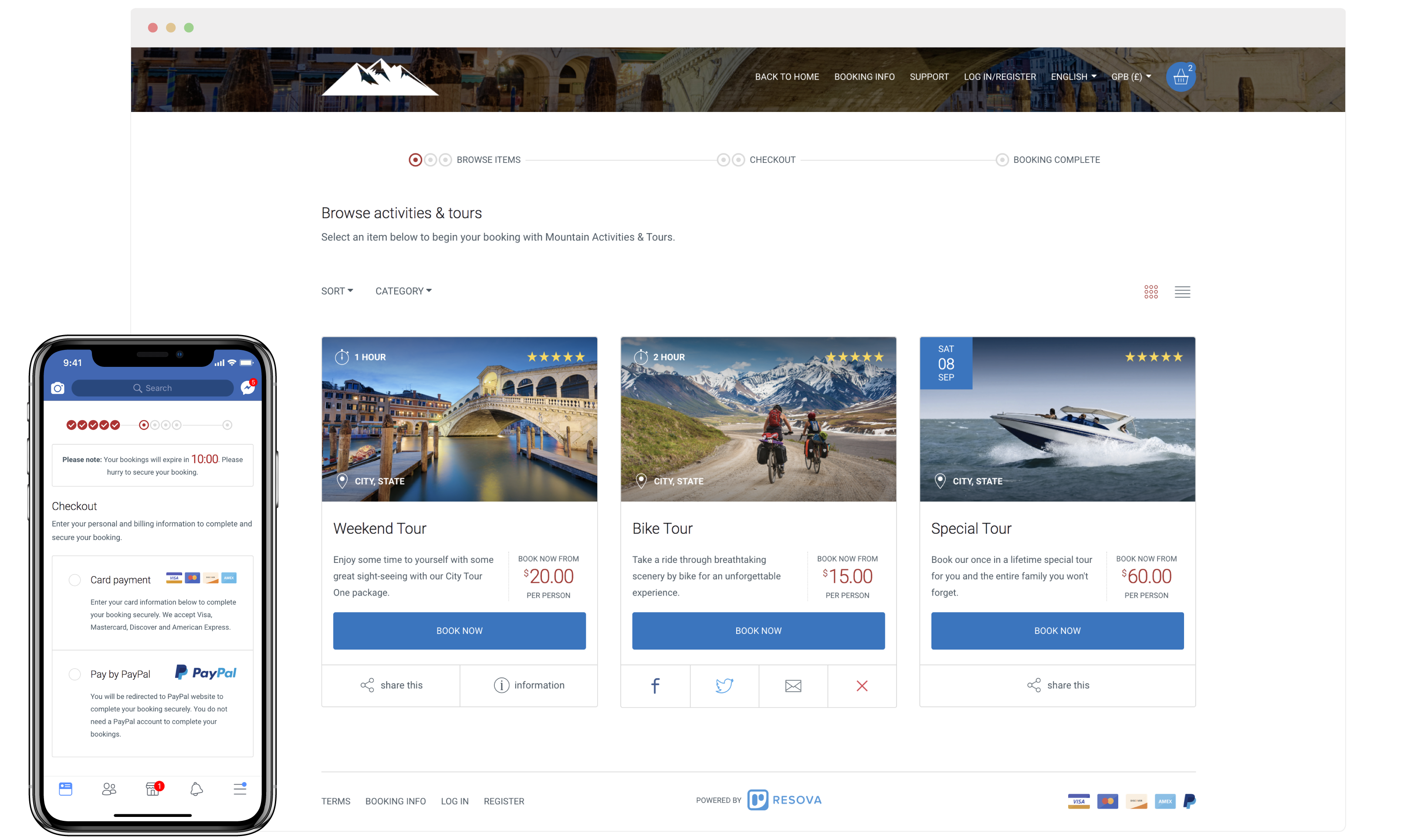 More Features
Advanced Scheduling & Pricing
Customize availability for every experience and team member like a pro. Get creative with private or ticket-based bookings and leverage multiple pricing models across your experiences.
Automated Emails & Text Messages
Keep your team and customers dialed-in with automated updates and reminders via text and email. Plus, you can cut costly no-shows with quick and easy customer communication.
CRM & Waivers
Take control of your sales with Resova's advanced CRM system. Effortlessly sign digital waivers with just one click and gain valuable insights into your customer's experiences through feedback requests.
Team Scheduling & Management
Keep your team on the same page and one step ahead with organized scheduling. Keep everyone in the loop by utilizing email and text to notify of schedule modifications.
Marketing & Promotion Tools
Boost your online presence and win back lost visitors with exclusive discount codes, social media promos and other marketing tools. It's never been easier to engage customers!
Advanced Reporting & Tracking
Understand exactly who is visiting and where their conversions take place with Google Analytics integrations & tracking codes that help you measure ROI.
Make Your Mark in Your Industry
With powerful tools for escape rooms, interactive museums and more, you'll be equipped with the technology you need to take your customer experience up a notch. Don't just survive - thrive in success.
Simple, Affordable, and Feature Rich - it is the best booking software out there, hands down.
Find Your Perfect Fit with Resova's Pricing Options
At Resova, we understand that every business is unique, which is why we offer flexible pricing solutions to meet your specific needs.
LITE
$30 / month
For smaller companies looking to get bookings online.
Free 30 day trial
Up to 100 bookings /mo
Up to 2 team members
No setup fees or contracts
Additional Features
Customer Accounts
Shopping Cart
Start free trial
🔥 Most popular
PRO
$60 / month
For established companies looking for more functionality from Resova.
Free 30 day trial
Up to 300 bookings /mo
Up to 5 team members
No setup fees or contracts
Additional Features
All features from Lite
Service Extras/Upgrades
Personalized Gift Vouchers
Cart Abandonment
Waivers
Start free trial
Frequently Asked Questions
Are there any commission fees with Resova?
No, there are no commission fees with Resova. We believe in total transparency and providing peace of mind for our users and their customers.
Is Resova's platform secure?
Yes, Resova's booking and ticketing system uses advanced security measures to protect customer data and transactions. This includes encryption and secure payment processing to ensure that customer information is protected at all times.
Can a booking and ticketing system help increase revenue for my business?
Yes, a booking and ticketing system can help increase revenue for activity centers by streamlining the reservation process and improving the customer experience. This can lead to increased bookings and repeat customers, which can result in higher revenue for the business.
What industries can benefit from using a booking and ticketing system?
Booking and ticketing systems can benefit a variety of industries, including escape rooms, museums, activities and tours, and other entertainment and activity centers.
A solution like Resova can streamline the process of scheduling and tracking bookings, handling payments, and managing customer information, resulting in increased efficiency, better inventory management, enhanced sales and better data management.
How can booking and ticketing systems improve the customer experience?
Booking and ticketing systems offer a convenient and seamless way for customers to book their activities and purchase tickets. They can quickly and easily see available dates and times, make a reservation, and purchase tickets.
This leads to a more positive experience for the customer, as they don't have to spend time on the phone or in person to make a reservation. Additionally, these systems often provide automated confirmation and reminders, so customers can feel confident about their reservation and have all the necessary information at their fingertips.
Can Resova save time for activity center staff?
Yes, a booking and ticketing system can significantly reduce the time and effort that staff members spend on administrative tasks. Staff members no longer have to take manual reservations over the phone or in person, freeing up their time for other tasks. These systems also provide real-time updates and a centralized calendar, so staff can easily manage bookings, schedules, and availability.
How does Resova help with revenue management?
A booking and ticketing system helps with revenue management by providing detailed sales reports and real-time data on bookings and ticket sales. This information can be used to make informed decisions about pricing, promotions, and resource allocation.
Additionally, these systems often offer flexible pricing options and the ability to manage discounts and promotions, so activity centers can maximize their revenue potential.
Can Resova integrate with other tools and platforms?
Yes, Resova can integrate with other tools and platforms, such as social media, email marketing tools and accounting software. This allows you to eliminate manual data entry and reduce the number of tools you need to use.