Looking to switch? Talk with our team to get started and move your existing bookings and client data to Resova.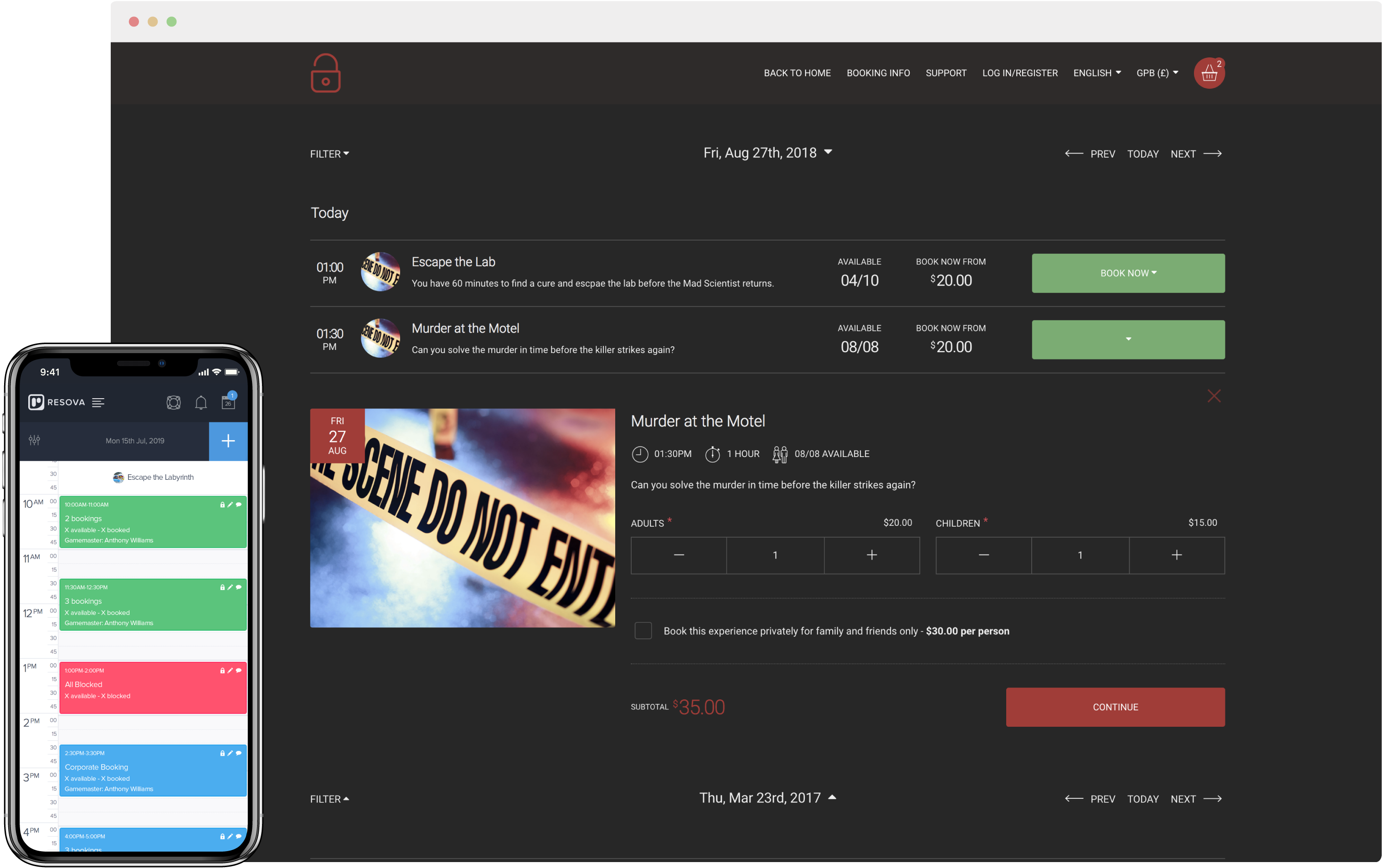 Our interactive calendar is designed for your unique needs
Instantly see a top-down view of all bookings, available rooms & gamemasters, or refine your view to a specific time period to hone in on your scheduling.
Learn more
Easy booking management and intuitive payment integration
With the ability to set custom availability schedules based on open escape rooms and available gamemasters, your customers can book easily on the fly.
Accept payment via credit card or use one of our many supported payment gateways to take payments and deposits at any time.
Learn more
Custom pricing for your one-of-a-kind Escape Room business
Choose to offer discounts for larger escape room groups, optional fees for private games, and allow full or per-person payments for groups.
You can even customize your price models based on seasonal trends and time conditions.
Schedule bookings based by escape room or gamemaster availability
Set recurring time slots for your escape room experiences and choose whether to assign gamemasters to time slots and bookings.
Guarantee that no bookings are made without a gamemaster to oversee your customers' escapes.
Improve your customers' escape with optional extras and or up-sell with customizable gift vouchers
Spread your brand, boost customer loyalty and increase profits with optional extras like merchandise, VIP experiences or private events.
Earn extra with gift vouchers too, branded to your business and customizable by customers to forward onto family and friends.
Learn about gift vouchers
Protect yourself and your players with digital liability waivers
Resova gives you the power to create and send custom waivers for each participant, then choose whether to have them sign before their booking on-site at reception.
Learn more
Powerful marketing tools perfect for escape rooms
Integrate Resova to automatically use your social media and marketing channels to sell last-minute time slots and bookings. You can even collect emails through MailChimp for future promotions or announcements.
Looking to break into the escape room market? We integrate with daily deal sites like Groupon to fill time slots and boost your sales.
Learn more
More features for Escape Rooms
Custom Availability
Customize your scheduling with recurring time slots, private options for corporates companies and larger groups and more.
Participants
Optionally collect info from all players in a group, and allow each member to pay separately or take one full payment.
Booking Questions
Personalize customers' escapes with booking questions to gain vital info before players arrive to their event.
Payment Request Emails
Send payment requests to allow each player to pay separately at their own convinience before or during their experience.
Password Protect Time Slots
Use Resova to add a password to defined event time slots, then send the code to customers via email or text message.
Authorize & Store Card Details
Store encrypted card details to take payments from cancellations, no-shows or when up-selling merchandise.
Can't find what you are looking for? Take a look at more features Resova has to offer...
View all features