Looking to switch? Talk with our team to get started and move your existing bookings and client data to Resova.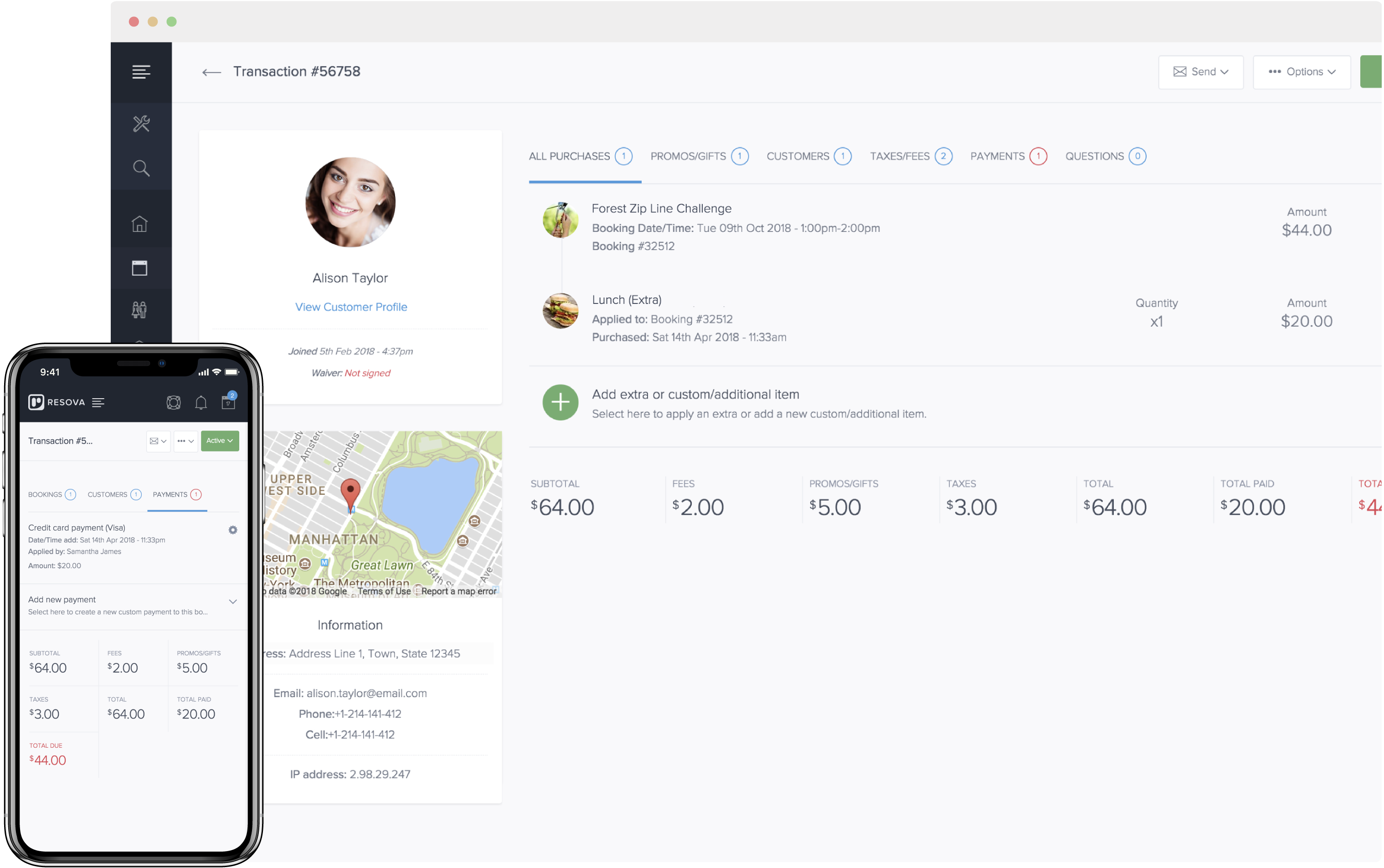 Streamlined booking management
Quickly create a booking or multiple bookings in a single transaction. Manage existing bookings with the power to edit and reschedule in just a few steps.
Never miss a payment
Accept payments by card with your preferred payment gateway, or collect payments at the time of booking with our wide range of POS payment options.
Send customized PDF invoices and payment requests via email or text message. Even refunding payments is simple and easy.
View all payment features
Enhance your customer experience with add-ons
Offer appealing VIP upgrades or merchandise with optional extras to complement customer bookings and increase revenue.
Keep customers happy with promotions
Apply discount codes and other promotions to bookings. Resova will automatically calculate any discounts and rates so you don't have to.
See more marketing tools
Make someone's day with the perfect gift
Up-sell with customizable gift vouchers, each one personalized by the buyer to forward to family and friends with your unique branding and message.
Resova automatically generates a unique voucher code, then tracks remaining balances when redeemed via your booking site or applied manually by staff in your account.
Personalize bookings to get to know your customers
Create unique booking questions for each event and gain valuable insights about your customers, from their favorite preferences to how they learned about you.
Keep customers and staff in the loop
Automated emails and text messages help keep customers and your team updated about new bookings or important changes.
Reminder notifications
Updated and rescheduled booking notifications
Cancelled booking notifcations
Learn more
More Booking and Payment Features
Shopping Basket
Add multiple bookings and items in a single transaction, under one invoice and payment. Perfect for corporate bookings.
PDF Invoices
Send custom PDF invoices with payment instructions for oustanding balances. Then send a 'Thank-you' when a balance is paid.
Payment Request Emails
Include payment request links in emails for customers and participants to pay by card when convenient for them.
Refunds
Refund payments manually through Resova, including cash or card payments if supported by your preferred gateway.
Authorize & Store Card Details
Authorize and store encrypted card payments with supported payment gateways to receive future card payments in Resova.
Customer Credit
Assign or refund payments as credit that can be redeemed on future purchases via the booking site or your account.
Booking Notes & Activity
Record private notes on bookings and track activity at every step, including initial payments, edits to bookings and much more.
Booking Reports
Gain valuable insights and track company performance with in-depth booking reports and advanced analytics.