Looking to switch? Talk with our team to get started and move your existing bookings and client data to Resova.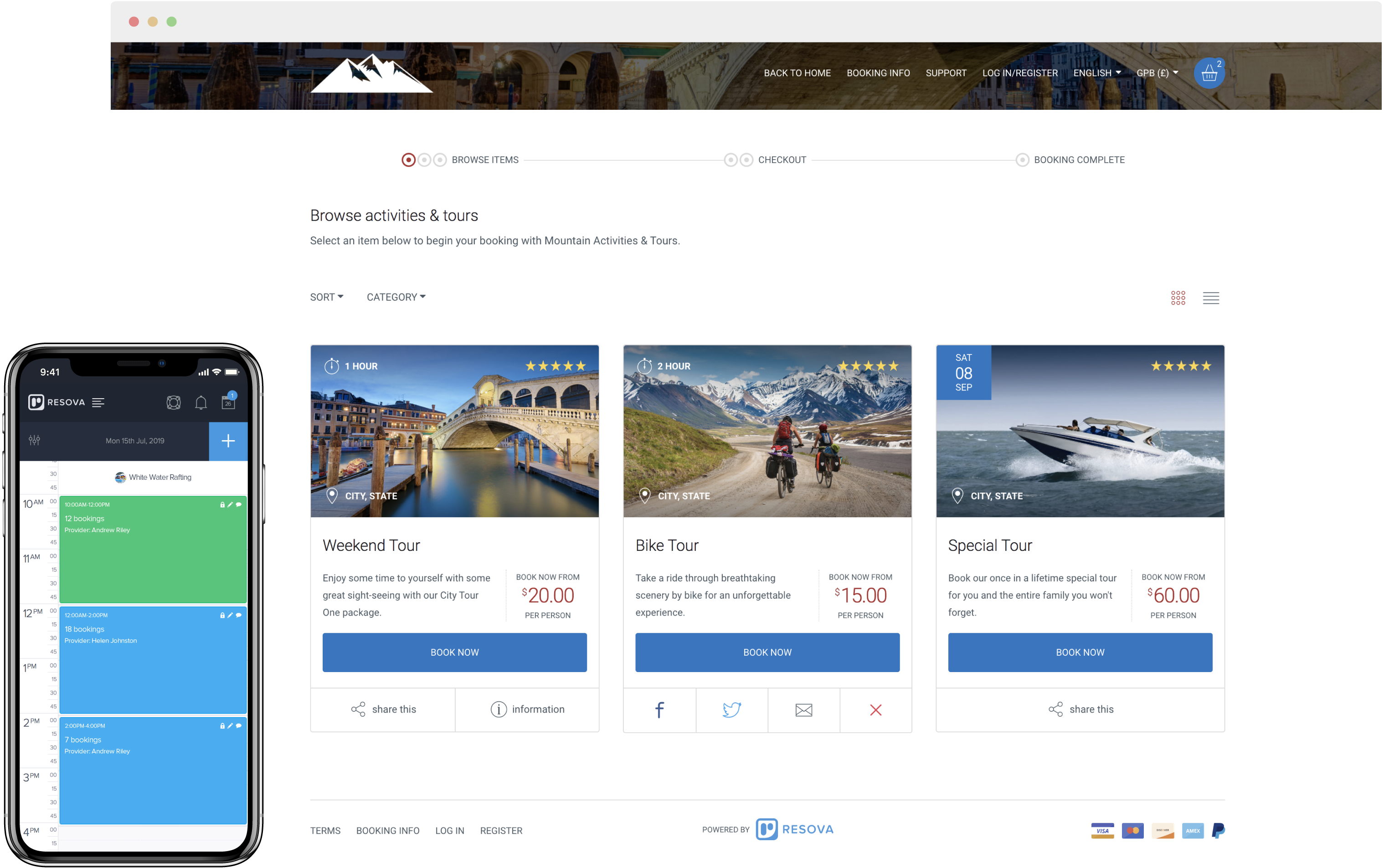 Manage bookings, operators and equipment in real-time with your custom calendar
Bookings, tour operator schedules and available assets can be viewed instantly with our intuitive visual calendar or list view. Then focus your view to the day, week, or month.
Learn more
Enjoy a smart booking interface and seamless payments
Manage existing bookings with the power to edit or reschedule in just a few easy steps. Even add more participants in one quick step.
Accept payments by card with your preferred payment gateway, or set deposits to collect payments at the time of an event with our wide range of payment options.
Learn more
Stay active and profitable with custom pricing and availability settings
Schedule services individually for private bookings with open availability, or use fixed time slots and single events for groups to sell by the ticket.
Customize pricing by service or by customer categories, with options to create seasonal or group-tiered pricing with custom date and time conditions.
Schedule by event or tour operator availability
Set availability and durations to match your business hours, or create custom schedules for each event and tour operator on your team.
Need to make a change? Customize availability on the fly for services and staff with additional schedules, or work from your calendar in just a few clicks.
Up-sell your customers with extras and gift vouchers
Give your customers the option to enjoy a VIP experience or add extras to their booking such as food, drinks or merch. Earn extra with gift vouchers too, customizable by customers to forward onto family and friends.
Learn about gift vouchers
Learn about your customers before they arrive
Request customer information to not only create a pesonalized experience but also send advance info, ask questions unique to each booking, and create and send waivers.
Learn more
Create and send custom waivers
Send waivers before a booking so that once your customers arrive, they only have to focus on having a one-of-a-kind experience.
You can opt to have participants to sign waivers upon arrival, too.
Simple mobile management for operators in the field
Activities and tours mean your guides and operators are often away from a computer. Keep them updated on schedules with our beautiful, robust software across all your devices.
More features for activities and tours
Shared & Private
Customize whether to allow private bookings or stick to shared experiences with multiple groups at a time.
Custom Availability
Set recurring time slots or custom schedules, and even create minimum group requirements to activate certain time slots and events.
Booking Questions
Ask your customers questions during booking to help personalize the experience or help you prepare for their event.
Payment Request Emails
Send payment requests for due balances, allowing each member of a group to pay separately.
Password Protect Time Slots
Create password-protected time slots, then privately send the password to customers over email or text.
Authorize & Store Card Details
Authorize and store customer card details securely to make future payments easier.
Can't find what you are looking for? Take a look at more features Resova has to offer...
View all features
Supporting all types of activities and tours
See below for all activities and tours that Resova can support. Not sure if we support your business? Get in touch with us to see if Bookify can help make your booking management more efficient.
Axe Throwing
Boat Tours
Bowling Centers
Bungee Jumping
Deep Sea Fishing
Haunted Tours
Helicopter Tours
Hot Air Balloon Tours
Kayaking
Museums
Paintballing
Parasailing
Rock Climbing
Safaris
Scuba Diving
Segway Tours
Skydiving
VR Arcades
Whale Watching
White Water Rafting
Zip Lining
... and so much more. Can't find if we support your business and services? Get in touch and we will be happy to discuss your requirements.
Talk to our team