Looking to switch? Talk with our team to get started and move your existing bookings and client data to Resova.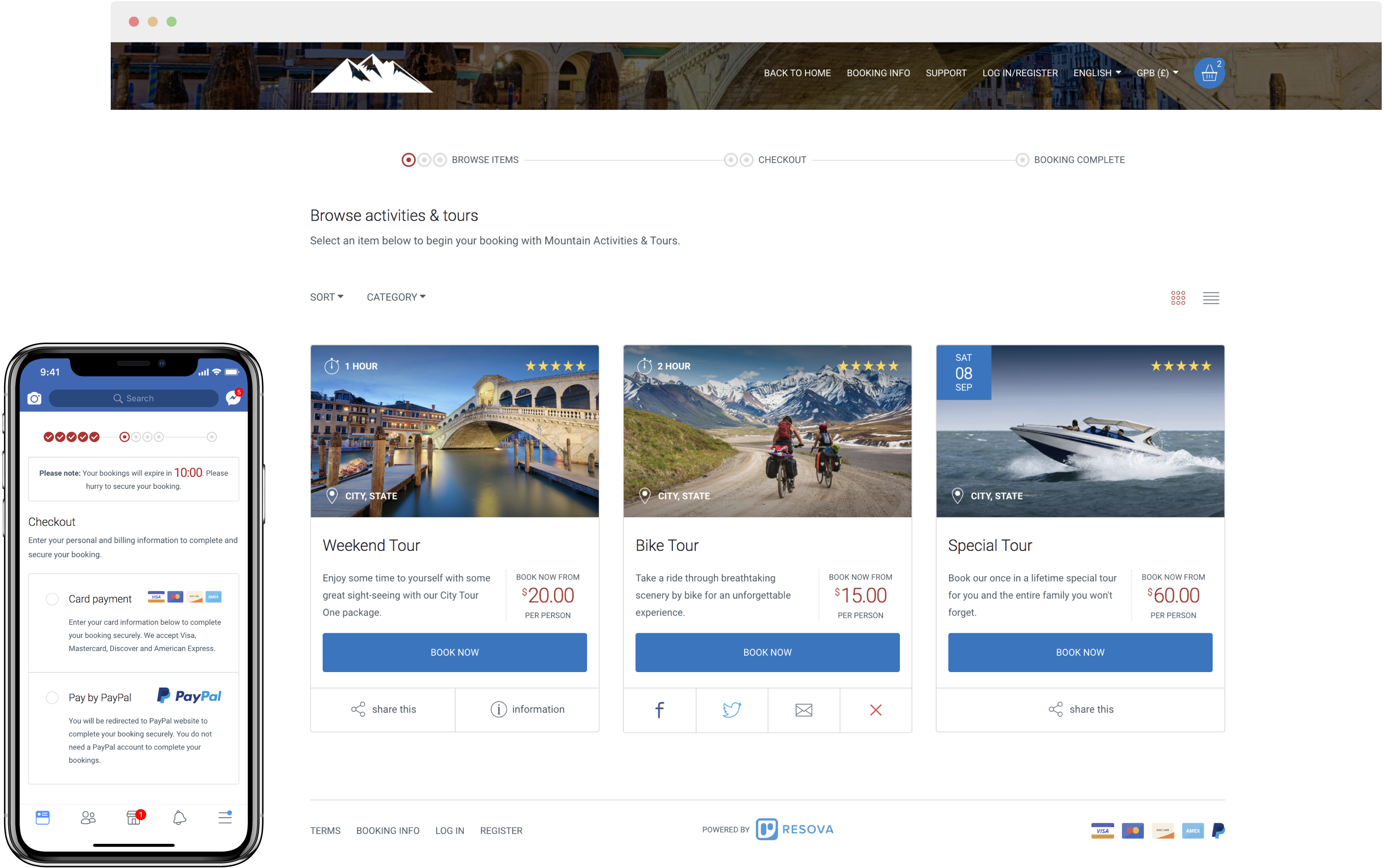 Take bookings from your website and Facebook page, 24/7.
Create your own free booking site or easily integrate our booking module into your existing website and Facebook page, all optimized to work beautifully on any browser or device.
View all site integrations
Make our booking site your own with full customization
With hundreds of options, it's never been easier to get exactly the booking site you want. Customize options like layouts, logos, colors, fonts, and more. Or go even further and edit all content, including email templates.
For customers on the go
With seamless integration on all tablets and mobile devices, you can offer a beautiful experience to your customers when they book on the go. No downloads or installations necessary. That means more flexibility for your customers when booking their next day out or weekend away.
Share the love with your customers
Attract and incentivize customers with promotional tools like discount codes and daily deal vouchers with services such as Groupon and Living Social. Plus, enjoy powerful sharing features through Facebook and Twitter to expand customer reach.
See more marketing tools
Flexible payment options give you full control of when and how customers pay
Give your customers the security and confidence they deserve when paying online. Integrate your favorite payment gateway or offer additional methods of payment, such as pay on arrival, by invoice, PayPal and more.
View all payment options
Give customers freedom to manage their bookings so you don't have to
Offer customers their own secure account to view recently purchased and upcoming bookings, and even edit or reschedule bookings at their convenience.
More booking site features
Shopping Basket
Activate the shopping basket to let customers add multiple bookings and purchase them in a single transaction.
Cart Abandonment
Send automated emails to visitors who did not complete their bookings and convert lost potential customers into paying ones.
Social Sharing & Incentives
Let customers share events and bookings made to their Facebook and Twitter pages. Reward them with an optional discount.
Visitor Tracking
Integrate Google Analytics to track visitors throughout the booking process, including conversions and e-commerce data.
Security
We provide the very best security to your customers, giving them peace of mind when booking your company online.
Superfast Speeds
Don't keep cusotmers waiting. We offer the latest techonology and servers to empower customers to make bookings as fast as possible.